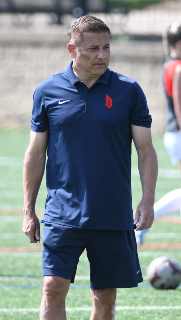 Al Alvine
Al Alvine was named the fifth head coach in Duquesne women's soccer history on Dec. 29, 2011.
It took just four seasons for him to accomplish what nobody else has in the program history of Duquesne women's soccer - win an Atlantic 10 championship. Inheriting a team that recorded three wins during the 2011 season, Alvine quadrupled that total in four years, setting a program record with 12 wins this season. At the 2015 A-10 championship, the Dukes were an underdog #7 seed. Alvine led Duquesne to their first-ever postseason advancement when they defeated #2 seed Dayton in penalty kicks, marking the first time since 1999 the Dukes defeated the Flyers, who were the defending league champions. In the semifinal round, Alvine's team upset defending regular season champion La Salle 2-1. This win was the first-ever for Duquesne in the Atlantic 10 Championship. In the championship match, Duquesne shutout Fordham 2-0, clinching their first-ever NCAA berth while setting a program record with their 12th victory of the season.
In his first year with the Dukes, he doubled the team's win total and followed in his second year by increasing the squad's winning percentage by four percent. 2013 also saw Duquesne represented on the Atlantic 10 All-Rookie Team by Maddie Layman and Maggie Mayo. This marked the first time since 2004 that Duquesne has had two players on the All-Rookie team and the first time since 2007 that the Dukes have represented the All-Rookie squad.
Alvine came to the Bluff after spending five seasons as head coach at California University of Pennsylvania where he was named the National Soccer Coaches Association of America (NSCAA) NCAA Division II Atlantic Region Coach of the Year in 2011 and 2009.
Alvine led the Vulcans to a 73-28-11 (.701) record including a 2011 season in which Cal U recorded an undefeated regular season before falling to eventual-National Champion Saint Rose in the quarterfinals of the NCAA Division II Championship. The Vulcans finished 20-1-2, won its first-ever Pennsylvania State Athletic Conference (PSAC) Championship and finished ranked No. 6 in the final NSCAA Top 25 Poll. Cal U had qualified for the NCAA Division II Championship in each of the last three seasons.
A native of Butler, New Jersey, Alvine has posted a 142-83-21 career record (.620) over 12 seasons which has also included stops at Saint Anselm and Castleton State . He helped lead Cal U to its highest-ever national ranking in the NSCAA Top 25 poll this year at No. 2 after finishing last season ranked No. 14 and No. 6 in 2009.
Individually, Alvine has produced two Atlantic 10 All-Rookie Team selections, 21 All-PSAC selections, two PSAC Athletes of the Year, two PSAC Freshmen of the Year and two Academic All-Americans.